Malaysians can now easily purchase 100% verified Halal certified products from Lazada Malaysia under its new "Laz Halal" online store. This new Halal channel will provide consumers with easier access to a wider variety of local and international Halal products that have been verified and authenticated with the JAKIM Halal certification.
The Laz Halal chain also aims to support local entrepreneurs who want to market their Halal-certified products to a growing customer base who see Halal as a key factor in their buying decision. Laz Halal will be an expanded channel for businesses to reach more customers who increasingly shop online for groceries, food and beverages, household items, health and wellness, fashion , beauty and a variety of other Halal certified Halal products.
"Laz Halal will give consumers the confidence to buy certified, good quality, value-for-money Halal products from a trusted online destination, directly from flagship stores and sellers offering an assortment of Halal certified consumption. We're excited that this specialized channel provides businesses large and small with an additional opportunity to drive sales and customer engagement. With Aidiladha fast approaching, we are also happy to be able to be part of the festivities. And after Hari Raya Haji, Laz Halal will continue to offer a variety of Halal-certified products to our local consumers," said Syarif Lee, Chief Customer Officer, Lazada Malaysia.
Speaking of the positive initiative, YBhg. Datuk Hajjah Hakimah Mohd. Yusoff, Managing Director of Jabatan Kemajuan Islam Malaysia (JAKIM), said, "In this digital era with the convenience of e-commerce at your fingertips, JAKIM understands the need and demand of local and global people for consumer goods. halal certified. Our role is to ensure that the integrity of the Halal logo with the Halal certification issued by JAKIM, and other global Halal certification authorities recognized by JAKIM, is safeguarded and managed and governed with respect. This proactive decision by Lazada to create a dedicated Halal online store that offers products with verified Halal certification is a step in the right direction. This will benefit the Muslim community, while strengthening JAKIM's strategic effort on the halal front.
The 'Laz Halal' icon and banner are available on the homepage of Lazada Malaysia, making it easier for customers to access, browse and add to cart their Halal certified products, while enjoying the exclusive offers and discounts during Lazada's 7.7 Mid-Year Mega. Sale such as free shipping, additional savings of up to 20% via LazCoins and RM10 off for every RM100 spent via Lazada bonus. For more information, click on the Laz Halal Campaign Page.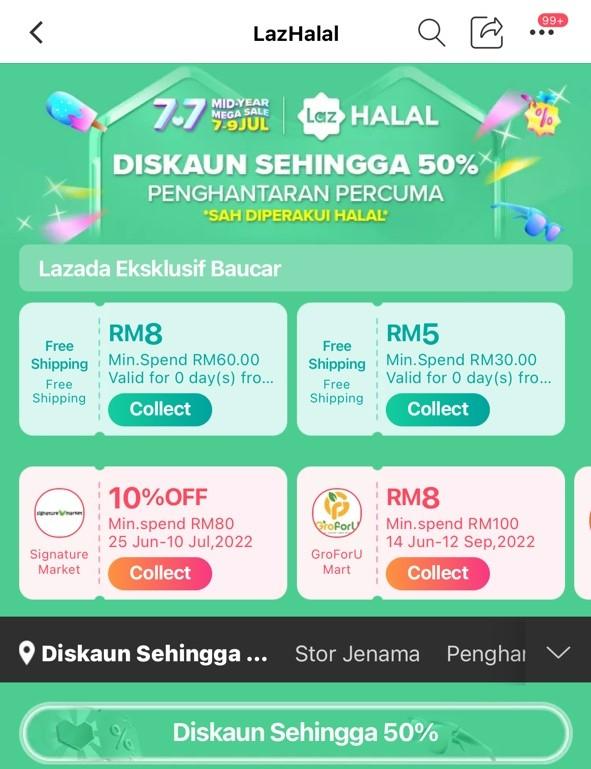 ---
This content is provided by Lazada Malaysia.
Interested in having your listings on Malaysiakini? Contact the announcements team at [email protected] or WhatsApp at +60 17-323 0707 for urgent questions.